After I returned back to Vienna from my terrific travels to San Francisco and Silicon Valley, life started to get back to normal mode… well: Almost. As some of you might have recognized, this blog has switched to English language now – a plan which I had had last summer and now feel ready to carry out. It just feels right to switch now, and there is also some kind of deeper meaning to this…. don't worry: I'll tell you later 😉
Other stuff that happened: My new home, the MeyMultimediaStudios in Ottakring, is becoming a really nice place to hang out (be prepared for one hell of a housewarming-party!), my mom and dad were here last weekend to see if their son is actually doing fine… and, of course, there's work. Loads of work, actually. Especially for WirtschaftsBlatt, the Austrian business paper for which I'm currently writing. For a special report on the future of Austria, I did some nice interviews with Hannes Offenbacher, CEO of Mehrblick, and Othmar Hill, an HR-expert and "business psychologist", who believes that our society will move from a materialistic attitude to a neo-humanistic era – in that context, he of course used the word "Social Business". That was quite inspiring.
For the reportage on Start-ups in Silicon Valley, I also met Rudolf Thaler, the Austrian trade representative in Los Angeles – he's currently home in Vienna, participating in some events by the Wirtschaftskammer. Originally, it was just ment to be an interview and a coffee, lasting only about 30 minutes; but then, it turned into a lively discussion on cultural differences and the difficulties of carrying out international projects. We ordered some Chicken Masala and some beer, and the conversation went on for about three ours – that was wonderful.
Check out these nice pics taken by Elke Mayer of WirtschaftsBlatt during the meeting: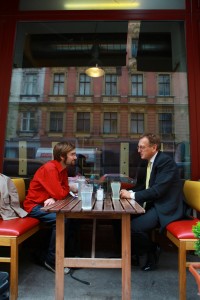 Finally, as requested by Miriam B., I will close this entry by telling you what I'm up to the next days:
May 19th: "Kulturen bitten zu Tisch" – http://www.facebook.com/home.php#!/event.php?eid=111842528897001
May 20th and May21st: Private partys with friends 🙂
May 27th: Sebastian Buchner, the awesome photographer who presented his India-pictures on IndiaCamp, is on the road again: http://www.facebook.com/event.php?eid=116053591813904
Hope to see you there…. Cheers, Stefan