When traveling to Silicon Valley, I also wanted to visit the world-famous headquarteers of several US-based corporations. Unfortunately, most of them rejected me, so I had to do it the Guerilla-way: Together with Martin Sprengseis, an Austrian entrepreneur, I sneaked onto Google Campus. Fortunately, I still had my visitors badge from visiting the "Plug and Play Tech Center" in Sunnyvale, where several international Start-ups are trying to get into contact with VCs – so I had at least some kind of alibi for being there.
Walking into the Google Campus is quite easy. It's all open, there are no gates – unless you actually want to enter the office buildings, which means you have to make your way past the reception desk. However, there is a lot of weird stuff in their front garden. The first thing we saw there were these coloured bikes, which didn't have any locks – they are available for the employees, so that they can make their way across the Campus.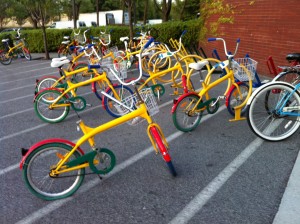 If you make your way through the area, you pass by a volleyball-field as well as cute tables with colored umbrellas, where the employees drink their coffes during their short brakes. Sounds nice? Well, yes… but be aware of that giant T-Rex hiding under a tree: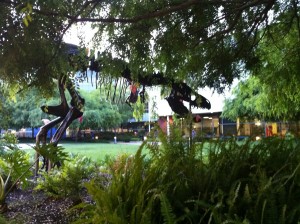 Oh, false alarm… it's obviously dead. Interesting for nerds: There are not only "Points of Interest" all over the place, but also a weird sculpture of the Android-mascot: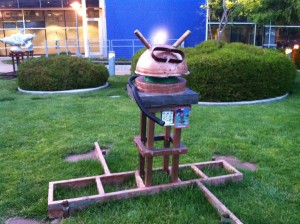 Fun-fact: This sculpture is equipped with an QR-Code and a NFC-Chip. So, I guess that you can do something really cool with it – but I unfortunately didn't take the time to find out.
Another quite unknown fact: If you are working for one of the world's biggest tech companies, you obviously need to be a high-performer. Since going to a hairdresser normally takes too much time, the Google-management has found a solution: An "On-Site-hairdresser"!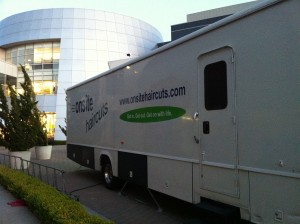 I guess you just walk into the van in your lunch break, while eating a sandwich, they cut your hair, and you get back to work again… sounds simple and effective.
But ironically, the coolest thing I saw in Mountain View was the screen of my iPhone: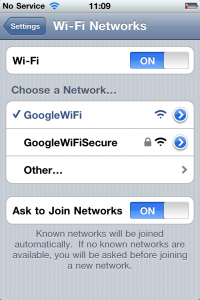 That's right. Since several Google-employees work in Mountain View, they covered the whole area with WiFi. After joining the Wifi-network, the user is redirected to a page on which he can log-in by using his Gmail-address – now that's what I call Customer Relationship Management! Since I was waiting at the train station for ages to catch the train back to San Francisco, I was glad that I actually had a Gmail-account and could therefore kill some time on the web. In case visitors to Mountain View don't have a Gmail-account yet, this is the right time for them to get one.
Lessons learned during the visit: First of all, other companies should also try to do some innovative CRM with their WiFi; Google sets a cool example here. Additionally, Google shows that QR is still not dead and that NFC will be the next big thing. And finally: Everybody should have a dead T-Rex in his front garden. Just because it's cool.
An article on Austrian enrepreneurs in Silicon Valley will be in WirtschaftsBlatt, Austria's leading business paper, on Friday.